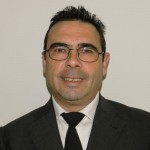 BIOGRAPHY
Francisco Andreu Comos was born in Torrent (Valencia) in 1968.
He began studying music in his home town before going on to the Valencia Superior Conservatory where he studied Piano, Harmony and Counterpoint with Rafael Talens, Luís Blanes and Francisco Tamarit. He completed his studies in the Madrid Superior Conservatory of Music.
Through public examinations, he gained the post of trumpet player in the Army Music Corps, destined to the Madrid Marine Infantry Band.
He has completed courses in Music for Cinema in the S.G.A.E. under the tuition of Antón García Abril, José Nieto and Luís de Pablo, as well as courses in Orchestra and Band Conducting with Pedro Villaroig in Madrid and with Pablo Sánchez Torrella in Valencia.
He is the accompanying pianist for the European Dance Center in Madrid and Valencia; he conducts the Orfeón Polifónico of Torrent and has worked as Assistant Conductor of the Symphonic Band of the Unió Musical of Torrent, who invited him to conduct the performance of his own compositions.
He composes music for wind band, symphony orchestra and chamber groups. His works include:
"Divertimento" for Bass Clarinet and Orchestra
"L'enfant magique" for the Clarinet Quartet "Vert"
"Torrent. Imatges d'un poble viú" for Orchestra or Wind Band with narrator
"Drácula. La leyenda" Symphonic Suite for Wind Band
"The Dream of Willy Freeman" Symphonic Suite for Wind Band (Premiered by the Valencia Municipal Band in the Palau de la Música of Valencia)
"Festival" for Alto Saxophone and Wind Band (Premiered in the Palau de la Música of Valencia)
"Cuatro movimientos" for Wind Band
Theme tunes for the corporate music and branding of Canal 9, Nou 2, Nou 24h and RTVV television stations.
PLAY: "THE DREAM OS WILLY FREEMAN»
Willy is a restless 12-year old orphan clinging to his home town of Glissmouth. Every day, from the small dock which ends in the old lighthouse, he stares at the faraway horizon, which he cannot quite make out, and imagines a new world beyond the sunrise.
One day, feeling weary and sad, but hopeful, he stows away on a merchant ship bound for America to seek a better life. And in the solitude of the sea, he will remember what he has left behind, his small romance, his only love which, although it was just a children's game, will cast a shadow over his departure. Nevertheless he will continue onwards until he reaches his goal, a dream… the dream of Willy Freeman.
This is a descriptive work in three movements:
The first, "Departure from Glissmouth", tells the unforeseen events that lead Willy to stow away and travel far from his home town to try and make his dream come true.
"Remembering his love", the second movement, is a simple theme which fills him with melancholy and longing as he leaves his love behind. This melody contrasts with the second theme, a theme of anxiety and inner turmoil which embitters Willy because he has left his home.
The third movement is "Ellis Island. A new life". On arrival at Ellis Island, a new land, Willy begins to believe that everything is going to change, that a period of opportunity, luck and hope await him. His dream is going to come true, far, far away from his homeland.