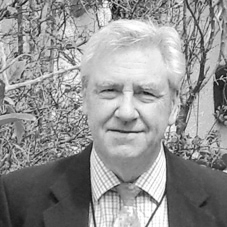 Derek Bourgeois was born in Kingston on Thames in 1941.   He graduated from Cambridge University with a first class honours degree in music, and a subsequent Doctorate.   He spent two years at the Royal College of Music where he studied composition with Herbert Howells and conducting with Sir Adrian Boult.
He has composed ninety-three symphonies, fifteen concertos, several other extended orchestral works, seven major works for chorus and orchestra, two operas and a musical.   As well as a considerable quantity of chamber, vocal and instrumental music, he has composed fourteen extended works for Brass Band and seven symphonies for Symphonic Wind Orchestra.   He has also written a considerable amount of music for television productions.
From 1970 to 1984 he was a Lecturer in Music at Bristol University.   He was the conductor of the Sun Life Band from 1980 until 1983, and during the same period he was Chairman of the Composers' Guild of Great Britain, and a member of the Music Advisory Panel of the Arts Council. In September 1984 he gave up his university post to become the Musical Director of the National Youth Orchestra of Great Britain.   In 1988 he founded the National Youth Chamber Orchestra of Great Britain which held its first course in the summer of 1989.   In 1990 he was appointed Artistic Director of the Bristol Philharmonic Orchestra.
He left the National Youth Orchestra in August 1993 to become the Director of Music of St Paul's Girls' School in London.  He retired to Mallorca in July 2002. In spring 2009 he moved back to Dorset in England.
 OBLIGATORY PIECE: FANTASY TRIPTYCH (opus 145)
1. Le Tombeau d'Arthur Benjamin
2. Mr Bolt goes for a ride in his motor car and Monsieur Ravel turns in his grave
3. The War March of the Ostriches
The three movements have sardonic titles which go some way towards explaining the music.   Ravel wrote «Le Tombeau de Couperin» and Arthur Benjamin wrote a piece called «Le Tombeau de Ravel», so I thought it was time for the chain to continue.   Hidden away in the bass line towards the end of the movement is a brief reference to Benjamin's Jamaican Rumba, whose rhythmic character pervades much of the writing.   The reference to Ravel in the second movement is only partly explained by this.   The movement is dedicated to an old schoolmaster friend who was a somewhat impatient motorist and whose favourite composer happened to be Ravel.   The angry central outburst was inspired by his particularly violent reaction to a minor traffic jam. A title for the finale eluded me until the amusing antics of a group of ostriches at Bristol Zoo came to the rescue.